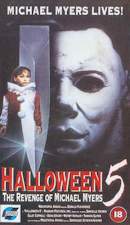 Filmed straight after Part 4, it seems in spite of being shot to pieces by the police, then falling into an old mineshaft, Michael Myers survived (surprise surprise).
Crawling out via a water duct, he makes his way down river and lands on the door of some old hermit where he collapses. Having spent a whole year recuperating, as soon as October 31st rolls around again, he dons his favourite Halloween mask and repays the old hermits kindness for looking after him by brutally murdering him. Before making his way back into town to resume his hunt for young Jamie Lloyd.
But it seems since Part 4, Jamie is now residing in an institution, unable to talk, and has developed a telepathic link with uncle Michael (what?). Unfortunately, because Jamie can't talk she is unable to tell Loomis as to Myers whereabouts.
Most of the film is subsequently spent with Michael Chasing young Jamie around the place again and very little else. This was apparently a very rushed production and it shows, as the plot seems to trundle along at a snails pace and isn't helped by the oddball antics of 2 goofy cops, who act like a couple of stooges in a failed attempt to bring some comic relief to the film. The plot does have one interesting feature, with the arrival of a mysterious man in black who appears to be following Myers around, although his identity and interest with Myers are never explained.
My suspicions of how "good" (bad) this film was, were first aroused when it was released direct-to-video in the UK, totally missing out the cinema. Overall, I was very dissapointed in this, particularly after I really enjoyed Part 4. However, you do need to see this in order to understand the story in Part 6, but not for any other reason.