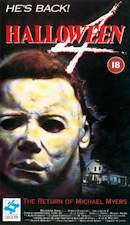 Just when you thought it was safe to go trick-or-treating, along comes Halloween 4. Released to coincide with the 10th anniversary of the original film, producer Moustapha Akkad decided to jump on the same sequel bandwagon as the "Friday the 13th" and "Nightmare on Elm Street" franchises by bringing back Michael Myers and releasing another Halloween film.
Seems Michael Myers and Dr Loomis didn't burn to death at the end of "Halloween 2" after all (remember, Halloween 3 was a spin off movie) and Myers has spent the last 10 years in a comatose state inside a maximum security asylum. But when the head of the institute decides to transfer him, they discover that Myers isn't as comatose as they suspected and promptly escapes.
Dr Loomis (Donald Pleasance reprising his earlier role), upon hearing what has happened, realises what Michael is up to and travels back to Haddonfield to try and stop him once again. This time though, Myers isn't after Laurie Strode, who was apparently been killed in a car crash years earlier (kind of ironic). Instead, he spends the film chasing after her young daughter Jamie Lloyd (Danielle Harris), whilst the local rednecks go around causing mayhem as they tear up the place looking for him and the Sheriff's office attempt to track him down.
All in all this was a very good film, and was what they really should have done with Part 3, rather than making that spin off film. A pity that Jamie Lee Curtis wasn't up for reprising her role, but it was certainly good to see Donald Pleasance reprising his role as Doctor Sam Loomis again.