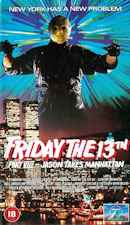 Awful, awful, awful. Just when I thought the series was looking up, Paramount Pictures hit us with this abomination. The film starts with Jason (Kane Hodder) still lying dormant at the bottom of Crystal Lake, when a passing boat conveniently snags its anchor on an underwater power cable and gives him a huge electric jolt.
Predictably, Jason re-awakes and bumps off the young couple on the boat in one of the most cringe-worthy scene's I've ever witnessed. Then for some unknown reason, decides to take their boat down river and stows away on a pleasure cruiser full of teenage kids who are setting off on a school cruise to New York City.
The title of the film is extremely misleading as the vast majority of action takes place on board the pleasure cruiser, with only the last 15 minutes or so set in New York city, and most of that is in the subway system and the sewers. Perhaps it would have been more appropriate to call this 8th outing "The Voyage of the Damned", as most of it takes place on the boat and it virtually killed off the franchise.
As you can probably gather I was very disappointed with this lame effort, in spite of the return of Kane Hodder as Jason. Shoddily directed, Jason's method of killing wants to make you cringe with embarrassment, rather than recoil in horror. Indeed, everything in this film just plain sucked, it was even voted biggest turkey of 1989 (I think) by readers of Fangoria magazine.
Only watch this film if, like me, your a completist and want to see the whole series.
Overall marks 3/10.