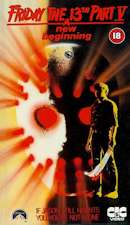 What's this you say, A New Beginning? Yes indeedy!!!! Unfortunately the Friday the 13th saga had made too much money for Paramount Pictures to let it stop at Part 4. Henceforth we have a new beginning.
As we all know, Jason was killed at the end of Part 4 by young Tommy Jarvis. Tommy is now aged eighteen (played this time by John Shepard) and residing at Pinehurst Mental Institution, being treated for nightmares about Jason returning from the grave (with Corey Feldman reprising his role as the young Tommy for the films "nightmare scene" prologue).
Unfortunately, somebody wearing an Ice Hockey Mask has started killing off the inmates of the mental institution along with the local townsfolk. The killings appear to be the work of Jason Vorhees, but Jason is dead isn't he? Well, yes actually he is. The killings are in fact being carried out by a copycat killer who's decided to take a leaf out of Jason's book. But comes to a "sticky" end (metaphorically speaking) when confronted by Tommy.
Whilst this isn't a bad sequel, it certainly isn't a particularly good one. The killings seem to be losing there impact due to the series getting so overly long and I personally feel that they shouldn't really have carried on past Part 4. There's no real feeling of suspense here and there's no real blood or gore as most of the killings appear to take place just off-camera.
When I think of this film I also think of Halloween 5 and the abominable Nightmare on Elm Street 5 which where terrible in the extreme, although this isn't quite as bad as those. Also, was it my imagination or were the outdoor sets on this movie the same as those used in part 3? (apparently not, but they do look strangely similar).
One for Friday fans only, though don't be too discouraged by my remarks, check this film out for yourself and see what you think.
Overall Marks : 5/10