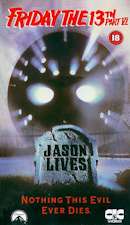 Tommy Jarvis returns again (played this time by Thom Mathews), but so does Jason (now played by C.J.Graham). Still plagued with nightmares about Jason returning from the grave, Tommy and his friend Hawes, dig up Jason's grave so that they can destroy the body and prevent him from ever coming back. But unfortunately for Tommy and even more so for his friend, instead of finding a decaying corpse they find a very well rested Jason.
All appears to be going well, until the grave is struck by lightning. Jason then bursts out of his coffin and attacks them both. Hawes has his guts ripped out (excellent!!!) although Tommy manages to escape. Jason then dons his favourite Ice Hockey Mask and heads off back towards the former Camp Crystal Lake site.
The local police don't believe Tommy's story about Jason coming back to life and escort him out of the county. Meanwhile Jason has returned to the old camp, to find it has re-opened under the new name "Forest Green" but still, "a camp by any other name would be slaughtered just as sweetly" as the saying goes.
Numerous victims are picked off in the surrounding area, including the chief counsellors and a group of paintballers, before turning his attentions towards the camp itself. But Tommy returns, aided by the Sheriffs daughter, and together they attempt to stop Jason by returning him to his original resting place, Crystal Lake.
This is a much better sequel than Part 5, but it is far from being the best in the series. Most of the killings seem to take place just off-camera (again) and once more, there's no real sense of fear or suspense, or even gore for that matter.
Jason's killings actually make you want to chuckle more than anything and as a matter of fact, the whole film appears to have been made as a black comedy, rather than a serious horror movie. Whilst this isn't a bad thing, I think it detracts rather badly from the earlier films, which relied heavily upon combining atmosphere, with excessive amounts of blood.
But still, as far as sequels go, this isn't a bad movie and despite the black humour it still manages to fit in line with the other sequels. There's also an excellent Hard Rock / Heavy Metal score featuring songs by Alice Cooper, that accompanied Harry Manfredini's incidental music score, which is also good and probably the films saving grace.
Overall Marks : 6/10.