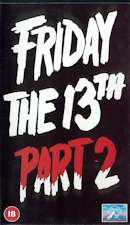 Five years on from the events of part 1 and Camp Crystal Lake stands derelict and abandoned once more. Since its closure, there have been no more problems, no more murders, but the appearance of a new camp next to the lake is about to change all that.
Ignoring the warnings about the infamous area, a counsellor training centre has opened up on the lakes shoreline. But the owner and the trainee counsellors seem unconcerned about the history of the area, believing the legend of Jason Vorhees to be a myth and that there's no more danger now that his demented mother (the killer from part 1), is dead.
Unfortunately somebody sinister is still roaming the area and Camp Crystal Lake isn't so empty and abandoned as we were lead to believe. Enter Jason, who made a brief appearance at the end of part 1, and another bloodbath ensues.
There's plenty of shocks and scares, not to mention plenty of blood, as Jason (played by stuntman Steve Dash, as opposed to Warrington Gillette who is listed in the credits) picks up where his mother Pamela left off and dispatches the counsellors in the same gruesome fashion as was seen in the first film.
This was most definitely a worthy sequel, equally chilling and scary, with gore aplenty! Jason's character seems somewhat different in this film, coming across as a demented hillbilly character, complete with bib-n-brace jumpsuit and lumberjack shirt, rather than the psychopathic zombie that he appears as in later sequels.
Jason had yet to acquire his now legendary Ice Hockey Mask and so spends the film running around with a bag over his head.
Overall Marks : 8/10