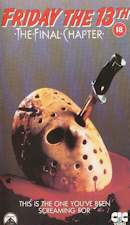 Don't be deceived by the title, this may be the fourth in the Friday the 13th saga but it is far from the final chapter.
Picking up directly after the events of part 3, all the bodies are collected up and taken to the local morgue. However, Jason isn't really dead (of course) and at the appropriate moment, arms himself with a surgical hacksaw and scalpel, and promptly does away with the 2 mortuary staff in one of the bloodiest killings in the whole film, if not the entire series.
He then heads back over to Crystal Lake to carry on where he left off and comes across a couple of holiday homes which are located a bit further round the Lake. Staying there are the Jarvis Family in particular, 12 year old Tommy (played by Corey Feldman). Across from them are (guess what) another group of imbecilic drunken teens, staying at the house opposite.
Jason subsequently gets stuck in to what he does best and the teens go about getting hacked, slashed and dismembered in loving detail!!! But when he turns his attentions to the Jarvis household, 12 year old Tommy, being a horror enthusiast, manages to play him at his own game and with some help from his sister, finally brings Jason's reign of terror to a grisly halt (or not as the case may be).
This is probably the best of the early sequels and definitely better than any of the subsequent sequels that followed. Whilst part 2 was arguably better because it had a tendency to make you jump more often, I enjoyed Part 4 because it was faster paced and the actual murders appeared more shocking. I also found that Jason, played this time by Ted White, was better in this film as he appeared more articulate, as opposed to the lumbering about he did in part 3.
My favourite scene has to be when Jason grabs the surgical hacksaw and saws off the head of the chief mortician. BLOOD EVERYWHERE!!!!!
Overall marks 7/10.