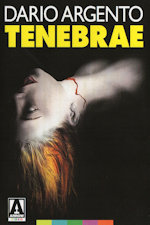 Taking a break from the supernatural themes of "Suspiria" and "Inferno". Director Dario Argento returned to Giallo territory with this inventive "who-dunnit", that successfully combines elements of a stylish crime thriller with a mainstream horror pic to potently good effect.
The film revolves around respected horror novelist Peter Neal (Tony Franciosa, a regular in US detective shows), who travels to Rome to promote his latest novel Tenebrae, only to find himself embroiled in a series of grisly murders. A serial killer has been going round hacking young female victims to death, in the same styles described in his book, and then stuffing the pages in their mouths.
The police are called in to interview Mr Neal after the killer starts contacting him to boast of his crimes, but are unable to unearth the culprit. Believing the killer is someone known to him, Neal decides to do a bit of investigating himself, and aided by his assistant Anne (played by Argento regular Daria Nicoladi) and his publicity agent, Bulmer (played by horror B-movie veteran John Saxon), attempts to route out who the killer really is.
But when the person he initially suspects turns up murdered himself, along with several of his closest colleagues, it becomes a deadly race against time to stop the killer before he can finally get to him.
This is arguably my favourite Argento movie, and is definitely one of his better films. Highly entertaining and stylish, this should appeal to both horror movie and detective thriller fans alike. As girls are hacked, slashed and strangled, all in the best possible taste. The film also has a good supporting cast of cult movie regulars, including John Saxon as Neal's troubled promotional agent, Daria Nicoladi (ex-Mrs Argento) as his overly protective assistant. John Steiner as a creepy chap show host and Ennio Girolami, who has a minor role as a store detective.
Euro-horror fans should definitely love it.