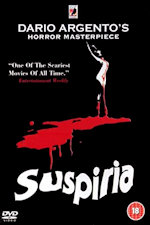 Another Argento murder/mystery, this time one that works in elements of supernatural evil, stars Jessica Harper as a young American dance student named Suzy Banyon who enlists at an exclusive European dance school in Germany, only to do battle with a vicious murderer and an unholy evil influence.
The problems start when she first arrives at the academy late one night. As she goes to call at the front door, she sees one of the students running out of the building and into the pouring rain in a state of distress. Then when Suzy tries to gain access to the building, the women on the door intercom refuses to let her in.
She manages to get in the following morning, where she meets one of the instructors Miss Tanner (played by Allidi Valli), a portly woman with all the charm and charisma (and indeed dress sense) of an SS officer. It is then she finds that the girl she saw last night was brutally murdered shortly after returning to her college dorm. Jessica tries to put this disturbing news behind her and settle in at the school, but unfortunately when students start disappearing at an alarming rate she realises their is much more going on than meets the eye.
Investigating the strange noises she's been hearing in the night leads her to discover that something a lot more sinister than a simple killer on the loose is afoot at the school, and that there is much more than meets the eye with the schools directress.
Whilst the film does have something of a surreal feel to it, made by the garish scene colours, elaborate set designs, weird music (courtesy of Argento regulars the "Goblins") and a plot that flys off at tangents all over the place, this is still a highly enjoyable horror flick, although one that I would really recommend to Eurohorror fans.
Overall Marks : 6/10.