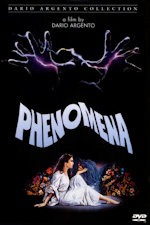 One of Dario Argento's more bizarre films, this rather odd murder/mystery, takes place at a Swiss boarding school in the Alps. Where young Jennifer Corvino (played by a young Jennifer Connelly in an early role) has just been enrolled by her wealthy American father.
Unfortunately, something is amiss at the school and students are starting to disappear. With the police on the case, her schoolteacher Mrs Bruckner (Daria Nicoladi) tells the girls not to worry. But Jennifer however has a rather bizarre gift, she is able to communicate with insects and seeing as the police are drawing blanks, she hopes her gift will enable her to locate the killer herself.
Befriending a wheelchair bound professor (played by Donald Pleasance, with a rather dodgy Scottish accent) who specialises in entomology (bug specialist in other words), he agrees to help guide her in her quest to find the killer, but when he himself becomes one of the victims, Jennifer discovers the killer is someone a lot closer to her than she first realised.
Not Argento's greatest work (that achievement would have to be Tenebrae in my book), it is indisputably his most outrageous. Mutant babies, surreal sleepwalking scenes, girls who can talk to insects, body pits, some choice dialogue ("That fly is your magic wand"), a bizarre school complex that's more like a labyrinth, and to top it all off a razor wielding chimpanzee are all part of the norm here. If you put all forms of logic on hold you'll undoubtedly enjoy it, definitely one I'd recommend to fans of Argento's other films.