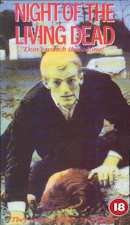 This low budget classic horror pic by director George Romero, successfully opened up a whole new sub-genre in the horror world, with its depiction of the world being terrorised by re-activated corpses, that have turned into flesh eating zombies.
The film starts off innocently enough, showing a young couple, Barbara (Judith O'Dea) and her brother Johnny, visiting their mothers grave in an out of town cemetery. Johnny is joking around, talking about the dead coming back to life. "They're coming to get you Barbara" he keeps saying.
As he continues to joke, they are then suddenly attacked by a REAL zombie, leaving Johnny in a bloodied mess on the floor and forcing Barbara to flee to a nearby farmhouse. The house is apparently empty, but she is soon joined by six others, who are seeking refuge from the zombie menace.
They are Ben (Duane Jones), Tom, his girlfriend Judy and the Cooper family. As night falls, they find themselves under siege from the flesh eating ghouls, who are attempting to break in from all sides. Matters are complicated by the fact that Mr Cooper (Karl Hardman) is only interested in looking after himself and is constantly fighting with Ben over what they should do.
Attempts to make a break for it end in disaster, as they find out the hard way that it is not advisable to fend off zombies with a burning torch, whilst trying to re-fuel your truck. The film is very ironic in many ways, particularly as Ben spends most of the film arguing with Cooper that they shouldn't try hiding in the cellar, only to end up having to take refuge down there himself, and then there's the ending (which I won't spoil for you) which is probably the most ironic ever filmed.
Filmed back in 1968 using old black and white stock film, rather than colour, Night of the Living Dead transcended the world of B-movies and became a true horror classic. Although looking somewhat old and dated compared to today's standards, the film is still hailed by both horror fans and critics alike.
Overall marks : 7/10