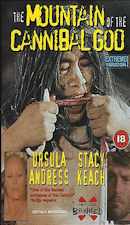 When I first came across this film during my write-up of the Video Nasties section, I was extremely surprised to find that 70's stars Ursula Andress and Stacey Keach had appeared in a cannibal movie. So much so, that I just couldn't resist getting hold of a copy and posting a full review.
Set in the Jungles of New Guinea, Susan Stevenson (Ursula Andress) is trying to find her missing anthropologist husband Henry. So she and her brother Arthur enlist the services of a Professor Edward Foster (Stacey Keach), who thinks her husband might have headed for a mountain named Ra Ra Me, which is located just off the coast, on the island of Roka.
The locals believe that the mountain is cursed, and the authorities won't allow expeditions there. So they surreptitiously head on into the jungle to see if that's where he went. Along the way they bump into fellow Jungle explorer Manola (played by regular Italian B-movie star Claudio Cassinelli) who agrees to tag along and help.
But, no sooner do they get to the island and hike up the mountain, they are captured by a primitve cannibal tribe and subjected to all manner of unpleasantries. Ursula Andress's character provides some of the more interesting scenes, as she is tied up, stripped naked and smeared with goo (which Andress fans will undoubtedly enjoy) whilst the others are either tortured or turned into the natives dish-of-the-day.
On the whole, this is actually quite an enjoyable jungle adventure film. But unfortunately, being released to cash in on the short lived boom of Italian cannibal films, suffers from the usual scenes of gratuitous animal violence that's becomes synonymous with these pictures. Which in this case (in the uncut version anyway) includes an Iguana being split open and gutted, a monkey being devoured by an anaconda and the natives tearing into a bunch of live snakes with their teeth. Whilst these scenes pail in comparison to the likes of Cannibal Ferox and Cannibal Holocaust, they are no less unpleasant to watch.
I would still recoomend giving the film a go, it's certainly a cut above the other cannibal films, which if you've seen you'll know what to expect. The UK release also cuts out most of the animal violence, so is certainly a lot more "palatable" (if you'll pardon the pun).