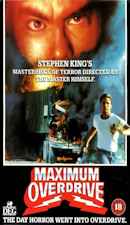 Stephen King adaptations were doing big business at the box office during the early-mid 80's, so when it came to adapting his story "Trucks" for the cinema, King decided to have a crack at directing himself
In this, Emilio Estevez (that's Charlie Sheen's younger brother), plays a hapless worker at a remote truck-stop diner. When an electric knife in the kitchen area just starts up on its own andcuts the hand of one of the waitresses, it marks the start of a series of bizarre incidents involving machinery.
Shortly afterwards, a trucker gets fuel sprayed in his face by a wayward pump nozzle and the gaming machines in the back start spraying money out. Elsewhere, confusion reigns as draw bridges start to raise on their own whilst still carrying traffic, vending machines fire cans of fizzy drink at people and cash machines call the people using them "assholes".
But when the lorries parked up outside suddenly spring to life and, lead by a delivery truck with a giant green goblin face on the front, begin circling the building and mowing down anybody who ventures out, it marks the start of a 3 day siege as the staff and customers find themselves trapped inside.
Fortunately, the manager of the truck stop has a hidden stash of weapons that can, hopefully, allow them to break out. But with all vehicles and machinery throughout the country also running rampant, what awaits for them outside?
Not your typical sort of Stephen King story, this isn't really a horror in the true sense of the word. If anything it, comes across as more of an action/comedy, as the story doesn't take itself too seriously and whilst having its share of blood, the deaths are done in a very tongue in cheek manner. It's certainly not a "scary" film and as a result many Stephen King fans seem greatly divided in their opinion of this.
However I found this to be hugely enjoyable, its action packed and overall great fun to watch, with an excellent hard rock soundtrack by AC/DC to boot!
Overall Marks : 6/10.