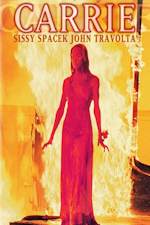 One of the better Stephen King adaptations, this cult 70's horror film from director Brian DePalma stars a young Sissy Spacek as the films lead character Carrie White. A somewhat dysfunctional young schoolgirl, who's the product of an abusive single mother with a penchant for bible bashing, as well as bashing people with her bible.
Disliked and ridiculed by her fellow classmates, we soon find out that there is something more to young Carrie being 'different' than just social ineptitude. As people who upset her start to have minor mishaps whenever she gets angry with them.
When the teacher dishes out a class punishment to the other students for their bad behaviour towards her, one of the more mean minded girls, played by a young Nancy Allen, decides to play one last evil prank on her in front of the whole school.
However, this proves to be the catalyst which causes young Carrie to unleash a deadly fury in which all hell literally breaks loose at the high school prom, in one of the most memorable cinematic climaxes ever. Giving a new meaning to the term "fire and brimstone".
Also starring P.J. Soles (Nancy from "Halloween"), William Katt (Who you may remember from horror comedy "House") and an extremely youthful John Travolta in one of his first big screen roles, this is an excellent supernatural horror film, which still holds up against most modern day films of this ilk. I would wholeheartedly recommend this to all fans of cult horror films and Stephen King stories.
The film spawned a belated sequel in 1999 entitled "The Rage", as well as a US TV remake in 2002, though both were critically panned. A theatrical remake was also released in 2013, which although was better than the other films, was still not a patch on the original, which remains a classic.