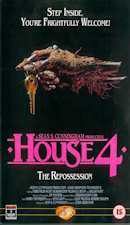 The fourth in the "House" series is set in yet another mysterious old mansion. The building this time being the old family home of the late Roger Cobb (played by William Katt, who also appeared in the first film).
After Roger is killed in a car accident, his widow Kelly (Terri Treas) and wheelchair bound daughter Laurel (Mellissa Clayton) decide to move into the old property with a view to renovating it. But Roger's greedy step-brother Burke (Scott Burkholder) has plans of his own, and wishes to sell the house to the nearby chemical plant. And so him and his 2 goofy henchmen decide to try and terrorise Kelly and her daughter out of the property.
However, the old house appears to be built on top of an ancient Indian burial ground (how original), meaning plenty of ghoulish goings on for all parties concerned. Some of the highlights include ghostly apparitions of Kelly's late husband, the shower spraying blood out (more originality), Burke's henchman turning into snakes and cockroaches, and a take away pizza coming to life (YES that actually happens!!!)
It seems producer Sean Cunningham was trying to re-inject some humour back into the series with this fourth entry, but unfortunately he doesn't quite manage to get the balance of horror and humour quite right. The plot is also made a little confusing by the fact that William Katt, who also appeared in part 1, is back playing another character named "Roger Cobb", though obviously not the same Roger Cobb.
Whilst in my view this film pails in comparison to the first 2, if you enjoyed the previous movies, you should also enjoy this. The singing pizza monster was certainly amusing anyway!