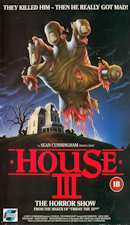 Totally different in style from the previous films, ditching the humour and going for the straight horror approach. Lance Henricksen takes the lead role this time, as Detective Lucas MacCarthy. A tough police officer who single headedly apprehended vicious serial killer "Meat Cleaver" Max Jenke (played by character actor Brion James).
Jenke, who is reported to have murdered over 100 people, is sent to the electric chair for his crimes. But following the execution, Detective MacCarthy finds himself troubled by constant hallucinations and nightmares of him threatening to get back at him from beyond the grave.
At first he thinks nothing of it, believing it to be post traumatic stress. But as the visions continue to get worse, and after the fact the body of his daughters boyfriend is discovered in the basement of his house, it soon becomes apparent that old Meat Clever Max is indeed still around somehow, and is now after revenge on MacCarthy and his family.
Heavily borrowing from (IE, probably ripped off) Wes Craven's "Shocker", which was made in the same year. When viewed as a sequel to the previous "House" films, it is rather disappointing, lacking the wry humour of it's predecessors. But on it's own merits, it's actually quite an entertaining low budget horror pic, and is certainly worth watching. Even if just for Lance Henricksen and Brion James's performances.