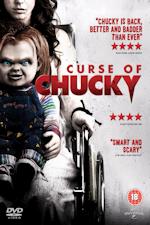 Has it really been 9 years since the last Chucky movie? Well it seems he's back once more, for a 6th outing in the Child's Play series. This time, terrorising a wheelchair bound girl and her relatives.
When paraplegic Nica Pierce (Fiona Douriff) takes delivery of a mysterious parcel containing an old "Good Guys" doll, it marks the start of a series of unfortunate events that sees her life being turned upside down.
Firstly, her mother mysteriously falls down the stairs, then when her friends and relatives come to visit they mysteriously start falling ill or disappearing....
Yes Chucky's back and for some strange reason has his sights set on Nica, as he proceeds to bump off anybody and everybody who stands in his way. Lacing the home made chilli with rat poison, electrocuting people live on web-cam, or just taking them out with a good old fashioned carving knife.
I'm a big fan of some of the earlier "Child's Play/Chucky" films, but after being slightly disappointed by part 5, was a little apprehensive as I approached this 6th feature. Overall I would say I enjoyed it, but then I did have fairly low expectations.
This clearly didn't have the budget of it's predecessors and is basically a variation of the old "trapped inside a creepy house with a killer" story, being set almost entirely in Nica's rather spacious, gothic looking old house. But it does make the best of it's low budget trappings and serves up some inventive kills, there's also a couple of people from the previous films who make guest appearances.
Written and directed by series producer Don Mancini, I'd say the film is worth a watch but isn't as good as the first couple of movies, or "Bride of Chucky" which still remains my favourite. But it was good to hear horror veteran Brad Douriff voicing Chucky once more and I did like the surprise post credits end scene!