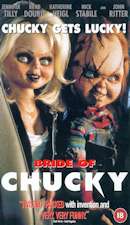 The moment I heard Rob Zombie's "Living Dead Girl" playing across the opening credits, I knew I was going to love this movie. This, the fourth in the "Childs Play" series, sees a former girlfriend of Charles (Chucky) Lee Ray , Tiffany (Jennifer Tilly) acquiring the old "Good Guys" doll that his soul took over.
After stitching him back together and using a little help from her "Voodoo for Dummies" manual, he is resurrected once again into the body of the doll. But unfortunately, they have a bit of a falling out session and she refuses to help him find a new host body for him to take over. Notwithstanding, Chucky subsequently kills her, then resurrects her into the body of another doll so that she is forced to help him.
This presents one slight problem though. In order to transfer into new host bodies they need to recover Chucky's amulet necklace, which is buried with his body in the next county. Posing something of a logistical challenge for the two, as how do you get there when you're a doll?
Being a resourceful type, Chucky concocts a plan to recover the necklace by conning Tiffany's next door neighbour into delivering them to the cemetery keepers house. Of course, what follows is a trail of blood and carnage, as the young lad who's taking them across state lines is also eloping with his girlfriend, the niece of the local police chief (John Ritter), and they run into a whole lot of trouble as Chucky and Tiffany proceed to start bumping off everybody who gets in their way. Leaving a mysterious trail of corpses in the unsuspecting couples wake.
By far, this is the best in the "Childs Play" series since the first film. Obvious efforts were made to update the franchise, and bring it in line with the 90's style "Scream-era" horrors of the time. The killings are on fine form, there's some hilarious gags in it, and the soundtrack is all by Heavy Metal / Hard rock artist's. I recommend it wholeheartedly, even though parts 2 & 3 were decidedly lacklustre.
Best line : Chucky, having killed a cop by firing a load of nails into his head, exclaims "Hmmm now why does this guys face look familiar?".