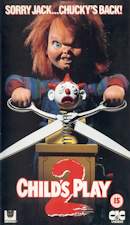 Following on from the events of "Child's Play", young Andy Barclay (played once again by Alex Vincent) has been sent to live with foster parents after his mother was taken into psychiatric care, due to her ordeal from the previous film.
Unfortunately, the toy company manages to acquire the original Chucky doll and rebuilds it, in order to disprove any bad publicity surrounding their range of "Good Guy" dolls. You can guess what happens next, that's right CHUCKY'S BACK!!!
Having returned to life, he once again goes after young Andy in order to transfer his sole over to his body and successfully manages to track him down to his new foster home. Much to the dismay of his foster parents (Gerrit Graham and Jenny Agutter) who he promptly bumps off.
Fortunately Andy isn't alone this time, after his foster sister Kyle (Christine Elise) discovers the truth about Chucky and helps get Andy away from him [hold on, isn't Kyle a boys name?]. Of course Chucky, being a resourceful type, manages to follow him and sets about bumping off numerous cast members on the way, leading to a final showdown at the "Good Guys" toy factory, which provides some of the more interesting moments from the film.
All in all this isn't a bad film, as far as low-budget horror sequels go that is, but overall it's nothing more than a continuation of the first movie. It's certainly worth a watch though, and it's good to hear Brad Douriff voicing Chucky's foul-mouth once again..