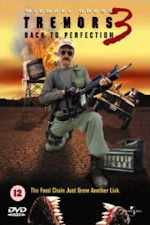 The resident's of Perfection, Nevada find themselves in trouble, and not just from greedy property developers. Yes, the Graboids have returned, to reek more mayhem and carnage on the town.
This spells bad news for the proprietor of the local Graboid Hunt tour, Jack Sawyer (Shawn Christian), as his tours were actually an elaborate hoax and with these creatures gobbling up his clientele, business has taken rather a sharp nosedive.
Fortunately, gun toting survivalist Burt Gummer (Michael Gross) is back in the neighbourhood to help stamp them out. But when a meddling Government department delays his hunting activities, we discover the creatures have yet another evolutionary cycle, and this time hiding on your roof in no longer a safe means of escape.
Most of the original cast from the first film returned for this third outing, including Charlotte Stewart and Ariana Richards, who played Nancy and Mindy, along with a young Robert Jayne who played teenage prankster Melvin, who's now a ruthless property developer.
Again, good to see Michael Gross's character up to his old tricks and one that fans of the series will enjoy, though this did kind-of have the feel of a TV movie.