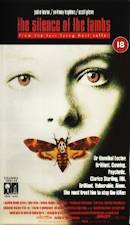 It's not often you find a gory horror film that features an established international cast, and wins multiple academy awards, but this is one such rare example. In this, Jodie Foster stars as trainee FBI agent Clarice Starling, who is tasked with interviewing serial killer Hannibal Lecter (played by noted British actor Anthony Hopkins). A former psychiatrist, and criminal psychologist, dubbed "Hannibal the Cannibal", as he used to cook and eat his victims.
The FBI hope his insight will be useful in helping them catch a serial killer called "Buffalo Bill", that has been abducting and skinning women. Lecter however is more interested in playing mind games with young Clarice. So, rather than helping her directly, gives her a series of cryptic clues that he claims will help her track him down.
But when Buffalo Bill (played by a young-ish Ted Levine), abducts the daughter of a prominent state senator, Clarice finds herself locked in a battle of wits with the malevolent Dr Lecter, who obviously knows a lot more about this killer than he's letting on, to try and find out who his identity is before his abductee becomes his next victim.
Based on the second of Thomas Harris's Hannibal Lecter books (if you want to know what happened to the first book, read my review of "Manhunter"), "Silence of the Lambs" is really a psychological thriller at it's core, despite all the blood. Centring around the young agent Starling trying to outwit the cunning Dr Lecter. However, there's still plenty of gore to keep mainstream horror fans happy.