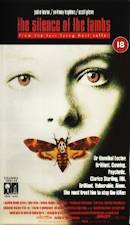 It's not often you find a gory horror film that features an established international cast, and wins multiple academy awards, but this is one such rare example. In this, Jodie Foster stars as trainee FBI agent Clarice Starling, who is tasked with interviewing serial killer Hannibal Lecter (played by noted British veteran actor Anthony Hopkins). A former psychiatrist, and criminal psychologist, dubbed "Hannibal the Cannibal", as he used to cook and eat his victims.
The FBI hope his insight will be useful in helping them catch a serial killer called "Buffalo Bill", that has been abducting and skinning women. Lecter however is more interested in playing mind games with young Clarice. So, rather than helping her directly, gives her a series of cryptic clues that he claims will help her track him down.
But when Buffalo Bill (played by a young-ish Ted Levine), abducts the daughter of a prominent state senator, Clarice finds herself locked in a battle of wits with the malevolent Dr Lecter, who obviously knows a lot more about this killer than he's letting on, to try and find out who his identity is before his abductee becomes his next victim.
Based on the second of Thomas Harris's Hannibal Lecter books (if you want to know what happened to the first book, read my review of "Manhunter"), "Silence of the Lambs" is, in many ways, and despite all the gore, really a psychological thriller. Centring around the young agent Starling trying to outwit the cunning Dr Lecter. However, there's still plenty of gore to keep mainstream horror fans happy.
Overall Marks : 7/10.
Terrifying Trivia.
Alternate tag lines "To enter the mind of a killer she must challenge the mind of a madman", "May The Silence Be Broken!!".

DeLaurentiis entertainment, who produced "Manhunter" (based on Red Dragon), had the rights to adapt the novel, but as their first film had flopped so badly at the box office they gave the rights for the film away for free to Orion Entertainment. Fortunately, they retained the rights to the follow up novels.

Jodie Foster was a huge fan of the novel and so when she heard about them turning it into a film, lobbied the film makers to cast her as Agent Starling. However, Director Jonathon Demme actually wanted Michelle Pfeiffer for the role. Fortunately, she declined, so the director offered the role to Foster.

Frankie Faison, who plays Barney the Asylum orderly, had appeared in "Manhunter", but in a different role, as Lt Fisk. Similarly, the guy playing the FBI's insect expert, Dan Butler, was a fingerprint expert in the previous movie.

The 'slurping' noise Hannibal makes when talking about eating the census takers liver was improvised on set.

Cult movie directors Roger Corman and George Romero both have minor roles as FBI agents.

Buffalo Bill was loosely based on serial killer Ed Gein, who also inspired Psycho and Texas Chainsaw Massacre who killed women for their skin and used to cross dress. A couple of other traits were borrowed from other serial killers, the false cast on his arm was taken from Ted Bundy who used it to convince women to get into his van and the pit in the basement was taken from Gary Heidnick.

Ted Levine developed his character by reading up on the profiles of various serial killers. As Buffalo Bill was also supposed to be cross dresser, he did some research by visiting transvestite bars and talking to the patrons.

Only one of three films to win the top five Oscars: Best Actor, Best Actress, Best Director, Best Picture, and Best Screenplay (Adapted). A rare achievement for any film, let alone a horror movie.

Extra Info.