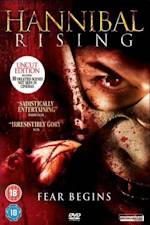 Anthony Hopkins may have said that "Red Dragon" would be his final appearance as Hannibal Lecter, but that was not the last we would see of the character. Based on Thomas Harris's novel of the same name, this film examines Hannibal's origins and how he got the taste for blood.
Starting off in Eastern Europe towards the end of World War 2, young Hannibal is sheltering with his parents and siblings at their country house, hoping they'll be safe from the ensuing fighting between Soviet and German forces. However, when the rest of his family is killed by retreating Nazi militiamen who, finding no food in the house, subsequently cannibalise his sister, he promises to get revenge.
Having spent several years in a Russian orphanage, he decides to escape to France, where he ends up studying medicine. But whilst there, a chance encounter with a German war criminal forces him to recall his earlier childhood experiences, and so heads back into Eastern Europe to see of he can track down those who were responsible for killing his family.
Needless to say, it doesn't take him long to track down one of the perpetrators, who he quickly dispatches in a suitably gory fashion. But not before getting him to reveal the whereabouts of the other people who were in the group, who similarly end up getting brutally killed.
Not a bad movie, but very, very different in style to the other films. Indeed, it was almost like watching a gory period drama. French actor Gaspard Ulliel, who plays the young Hannibal Lecter, is OK in the role, but he's no Anthony Hopkins to be sure, though that was always going to be a tough act to follow. There's also some bizarre romantic sub-plot between the young Hannibal Lecter and his aunt, Lady Murasaki, who's this weird Samurai type women, which is all rather weird. But overall I enjoyed it, even though its rather different to the other films.