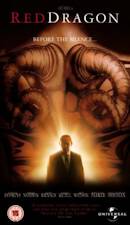 Thomas Harris's book "Red Dragon" had been adapted for the screen once before, as the movie "Manhunter", which had featured Brian Cox as Hannibal Lecter (click the link at the foot of the page to read my review), though that film had been a commercial failure. But following the success of "Silence of the Lambs" and "Hannibal", the film makers decided to have another go, with Anthony Hopkins in the lead role.
Set before "Silence of the Lambs", the story centres around FBI agent Will Graham (Edward Norton), who discovers that the psychiatrist he's been consulting over a series of recent murder cases, Dr Hannibal Lecter (Anthony Hopkins), is actually the person who's been committing the crimes. After being seriously wounded, when trying to bring him in, he decides to resign. But is pressed back into active duty by his former boss, Jack Crawford (Harvey Kietel) as they need his special skills to help them crack a particularly troublesome case.
A serial killer, dubbed the Tooth Fairy (Ralph Fiennes) because he breaks into victims bedrooms at every full moon, has massacred several families in their homes and the FBI want to stop him before he strikes again. But despite his ability to see into the criminal mind, he finds himself struggling to crack the case and is forced to enlist the help of Dr Lecter once more.
However, Lecter, who's currently residing in a maximum security mental facility, seems more interested in playing mind games than helping, so coaxing information out of him proves to be no easy task. But with the next full moon fast approaching, the FBI have got their work cut out for them if they wish to stop the Tooth Fairy before he strikes again.
Drawing the obvious comparisons with the earlier adaptation "Manhunter", this film is a lot slicker and better made. Though they seem to have added or expanded scenes from the original novel that featured Dr Lecter to flesh out Anthony Hopkins part. However, this version is still, arguably, the more faithful adaptation. As with the other films, this was more of a psychological thriller than a horror, but contains a few nice gore scenes to keep horror hounds happy!