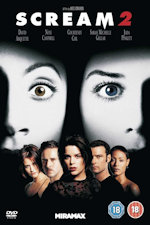 The radiantly beautiful Neve Campbell returns to do battle with another knife wielding maniac in a ghostly mask, in this highly enjoyable sequel by director Wes Craven and screenwriter Kevin Williamson.
It has been some time since the events of part 1. Now at college, Sidney thought she'd put her troubles behind her and moved on with her life. But unfortunately, with the opening of the film "Stab", which based on Gale Weathers (Courtney Cox) book about the Woodsboro murders, a copy cat killer is now on the loose and it looks like he's after the real-life surviving members of that incident.
Of course it isn't too long before Sidney's friends, new and old alike, are being targeted by the new killer in the ghost face mask, one of which being none other than Sarah (Buffy) Michelle-Gellar, who ironically met a similar demise in the other Williamson scripted film, I know what you did last Summer.
David Arquette returns as bungling cop Dewey Riley, who heads over to Sidney's college with Gale Weathers to try and find the killer. Also returning is Jamie Kennedy, reprising his role as horror nerd Randy Meeks, along with Liev Schreiber playing Cotton Weary, who immediately falls under suspicion as does her new boyfriend Derek (Jerry O'Connell). But as the bodies pile up, it looks like nobody is above suspicion.
As with the first film, this delivers more slapstick murder, mayhem and humour. In particular, the scene showing us the intro to the Stab movie which is a re-enactment of the first killing in Scream. If you loved the first film you should equally love this one, which very cheekily takes the piss out of horror sequels.
Overall Marks : 8/10