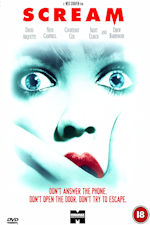 When cult horror director Wes Craven teamed up with scriptwriter Kevin Williamson, little did they know that the film they where producing would prove to be so phenomenally popular it would re-invent the whole horror genre and make horror movies cool again amongst general movie goers.
The film basically revolves around the young heroine, Sidney Presscott (played by the ever lovely Neve Campbell). Years earlier she'd been the centre of attention after her mother had been brutally killed by a local man named Cotton Weary, who's subsequently languishing in jail.
However, another killer is now on the loose in Sidney's home town of Woodsboro. Somebody has turned psycho after watching one horror film too many and has taken to making malicious phone calls to young girls, asking them questions on horror movies, then bumping them off when they get one wrong. The first victim being young Casey Becker (Drew Barrymore) and her boyfriend, after she fails to correctly answer who the killer was in Friday the 13th (yes, that one caught me out too. THINK ABOUT IT!!!!)
Anyway, the killer, who stalks about wearing a black robe and ghostly mask, then decides to turn his attentions to young Sidney and spends the best part of the film trying to catch her. We are then introduced to an obnoxious reporter called Gale Weathers (Courtney Cox), who has just published a book that claims Cotton Weary is innocent and starts investigating these new killings, believing they could be linked with the murder of Sidney's mother.
The police investigate, but are completely baffled. None more so than bungling cop Deputy "Dewey" Riley (David Arquette) who contributes very little to the film apart from providing comic relief. However, one of Sidney's friends, Randy (Jamie Kennedy), thinks he knows what's going on. The killer is using classic horror movie cliche's to carry out his murders and so to illustrate his theory, holds a horror movie party showing selected clips from his favourite scary films.
Of course, the killer then shows up in the background and the teens all start getting wiped out, as the killer proceeds to murder them in his deliberately cliche'd horror movie style, before Gale Weathers and Deputy "Dewey" show up and save the day, turning the tables on the murderer in what proves to be some of the more amusing moments of the film.
This movie is downright hilarious and it's popularity (apart from the lovely Neve Campbell that is) has undoubtedly got to be its tongue-in-cheek storyline, which plays the movie as a serious horror film, whilst ripping into, and taking the piss out of, virtually every other horror film on the market. There are some hilarious gags in it, particularly where Randy is watching a horror film saying "look behind you" at the screen whilst the killer is creeping up behind him. Great Stuff.
If you haven't seen this film already, do so at once. It really is a "Scream"!!!
Overall Marks : 9/10.