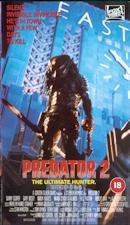 Set in the not too distant future of 1997 (OK, this was released in 1990), this latest adventure swaps the enigmatic settings of the Latin American jungle, for the turbulent world of Los Angeles city.
Danny Glover takes the leading role this time, playing Lt Mike Harrigan, a tough LA cop whose police force seem to be fighting a losing battle against the rival Columbian and Jamaican drugs gangs who are fighting for control over the city's drug supplies.
Starting off with a violent street shoot-out between an armed gang of Columbian drug dealers and the police. Lt Harrigan and his team are unaware that something has been watching the action and is about to join in. When the hideout is rocked by an explosion, the police storm the building only to find someone has beaten them to it, and left a string of mangled corpses behind.
Initially they believe the Jamaican's had something to do with it, but when the same thing happens to a rival Jamaican gang, they realise something else is going on. Yes it seems the Predator has come to town and is literally painting the town red!
However their efforts to discover who or what is behind these slayings are hampered by a mysterious DEA officer named Keys (Gary Busey), who orders them off the case. But Keyes has his own agenda going, he's really working for Air-Force Intelligence, and is out to capture the Predator for himself.
But when the police become the predators next target, after one of Harrigan's team is killed, matters become personal, climaxing in a mass shoot out as The Predaor wipes out Keyes team and Harrigan intervenes with rocket launchers and machine guns.
Overall this is a great film. Arnie was sadly absent from this movie, but the ensemble cast of action movie stars helps make up for this, which includes the likes of Bill Paxton (from "Aliens") and hard man Robert Davi. Whilst the emphasis appears to be on action, rather than Horror/Sci-fi, I would like to recommend it to you as this is still a great movie, not quite in the same calibre as the first, but very enjoyable.
Overall marks : 7/10.