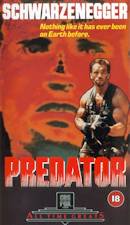 There's something nasty stalking Arnie and his group of commandoes in the jungles of South America in this highly enjoyable Sci-Fi/Horror/Action pic from action film producer Joel Silver and director John McTiernan.
Colonel Alan "Dutch" Schaeffer (Arnold Schwarzenegger) and his elite rescue team are brought in to locate the occupants of a helicopter crash, who are being held by rebel guerrilla's in the South American jungle.
Finding the remains of the last rescue team en-route, they wipe out the guerrillas base, but arrive too late to save the hostages. But as they head off to their pickup point, they soon realise they're being stalked by something sinister, as 2 of the team are slaughtered by an unseen force.
Knowing that they will never make it to the pickup point alive, they decide to make a stand to see if they can defeat the creature that's been stalking them. This turns out to be an alien life form, boasting all manner of high tech gadgets and weaponry, that enjoys hunting humans for sport which proceeds to make mincemeat of the lot of 'em.
This movie is probably one of the best examples that successfully combines horror and science fiction with plenty of rousing action, with a good use of cast, which includes Carl Weathers and WWF Wrestler Jessie Ventura. If you liked "Aliens" or "Starship Troopers" you'll have a blast!
Overall marks : 8/10.