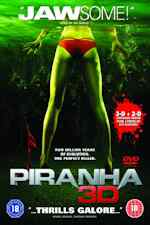 No doubt inspired by 2008s "My Bloody Valentine" 3D remake, someone had the bright idea of cashing in on both booms by remaking Joe Dante's 1978 Jaws rip-off "Piranha" in glorious 3D.
Loosely based on the original, a small earth tremor opens up a fissure in the lake bed next to the small resort town of Lake Victoria, which unleashes a deadly wave of prehistoric piranha fish from an underwater cavern, onto the unsuspecting locals.
With it being spring break, the Piranha find no shortage of snotty teens to chow down on as the local sheriff (Elizabeth Shue) finds her department stretched to the limit trying to police the rowdy youths who've flocked to town, whilst finding out what's been attacking people on the lake.
Directed by Alexandra Aja, the film is an absolute laugh riot from start to finish, culminating in a full scale massacre as the piranhas attack the marina, where the majority of teens are busy partying, which is as funny as it is gory. There's also a scene involving the death of a porno movie director (played by Jerry O'Connel) which was just so wrong on so many different levels (which I'll not elaborate on).
The film also benefits from a good supporting cast including Ving Rhames, Christopher Lloyd, Dina Meyer and even Eli Roth (director of "Hostel"), not to mention English model and actress Kelly Brook and 'adult' film star Riley Steel, who's performances are arguably worth the price of the movie alone!!!!
In short, I cannot recommend this film highly enough, its gory and funny in equal measures and I cannot remember the last time I laughed so damn hard watching a movie. Just try and see the film inb 3D, as it was intended. You won't be dissapointed!