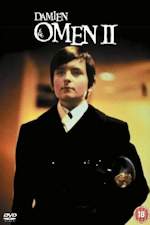 The Omen had made mucho-moolah for the film company, so the inevitable sequel was quick to follow. Flashing forward several years from the events of the previous movie, Damien, played here by Jonathon Scott-Taylor, is now in his early teens and has just been enrolled in a Military school.
Damien's uncle, Richard Thorn (William Holden), had raised him following the death of his father, but it seems that he's totally unawhere of Damien's demonic origins. But then that's not really surprising as anyone who tries to warn him, or for that matter finds out about him, ends up dying in mysterious circumstances (anyone who remembers anything about this film will always recall the scene with that woman being attacked by the satanic blackbird after her car breaks down).
However, it seems that Damien is himself unawhere of who he is, but that doesn't prevent people who get in his way, or piss him off, from coming a cropper. It seems that dark forces are at work keeping him safe, some of the more memorable deaths including a doctor being cut in half in a lift accident and the workers at his Uncle's plant choking to death during a toxic gas leak.
Will his Uncle finally discover the truth and do something about the boy, or will he end up going the same way as his Brother Robert? Leo McKern, who also starred in the first film, makes a brief return as troubled archaeologist Carl Bugenhagen and 70's actress Lee Grant stars as Richard's wife Ann. Look out for young-ish Lance Henricksen, in an early screen role, as Damien's platoon Sergeant.
Whilst this isn't quite as good as the original, it is still quite entertaining. Fans of the original should seek this one out if they've not already done so.