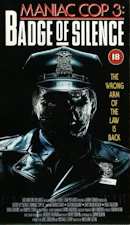 Robert Z'Dar returns as the maniacal Matt Cordell in this third and final outing for our favourite undead cop. This time though, the plot centre's around young rookie cop Kate Stevens (Grethcen Becker), who is fatally wounded during a shoot out a drug store and spends most of the film in a coma.
A couple of unscrupulous news reporters capture the final shootings on camera, and edit the footage to wrongly frame Officer Stevens for using excessive force in order to sell the story to the TV networks. This angers Detective Sean McKinney (Robert Davi reprising his role from part 2), who immediately sets about trying to clear her name.
Meanwhile a voodoo priest resurrects Cordell, who subsequently sets about keeping Kate alive by bumping off all the doctors who try and turn off her life support machine (along with a few obnoxious arseholes who show contempt for the police). McKinney becomes increasingly disturbed by the recent spate of killings at the hospital and suspects it to be the work of Cordell. But why would Cordell be interested in helping Kate?
For my money this is the best in the series. There's some nicely filmed action sequences, particularly the end chase scene (which I won't spoil for you), and solid performances from the entire cast (a first!). William Lustig and Larry Cohen definitely got the balance of action and narrative right this time and fans of the first two films should love it.