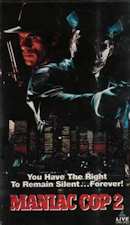 Zombie cop Matt Cordell (Robert Z'Dar) returns for more stalk and slashery in William Lustig's hasty follow up to his earlier Maniac Cop film, which shows him picking up where he left of and terrorising more New York city residents.
Believing that Cordell is finally dead, the Police begin to breath a sigh of relief. So you can imagine their surprise and alarm when more people wind up dead and reports start coming in they were killed by someone in a cop uniform. The investigating Detective, McKinney (Robert Davi), is convinced that Cordell is behind these, despite denials from Police officials.
It seems Cordell is still on the prowl as he has a few scores left to settle and won't stop until his revenge is complete. But as he continues to hack and slash his way through both innocent members of the public and members of the NYPD, who or what is his endgame here? And more to the point, can McKinney work out how to stop him?
Also featuring Claudia Christian and a (albeit brief) return from Bruce Campbell, reprising his role from the first. This one is certainly an improvement over it's predeccessor. It clearly had a much larger budget and is certainly a lot more action packed, featuring a Terminator style Police station shootout and an extremely over the top Police chase. Robert Davi is also excellent as the lead actor this time.
Unfortunately though, the film still falls just short of the mark in terms of entertainment value. My biggest complaint would be the fact that the action scenes are far too short, the police station shootout lasts all of 30 seconds, but fans of the original should definitely enjoy it.