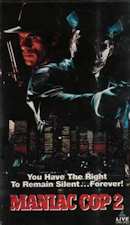 Zombie cop Matt Cordell (Robert Z'Dar) returns for more stalk and slashery in William Lustig's hasty follow up to his earlier Maniac Cop film, which shows him picking up where he left of and terrorising more New York city residents. Police chiefs are breathing a heavy sigh of relief, believing that Cordell is now safely out of the way. So you can imagine their surprise and alarm when more reports start coming in of a killer in a cop uniform.
Bruce Campbell and Laureen Landon reprise their roles as officers Forest and Mallory, only to get bumped off by the Maniac part way through the film, in much the same vain as what happened to Tom Atkins in part 1, leaving investigating detectives Sean McKinney (Robert Davi) and Susan Riley (Claudia Christian) to carry the rest of the film on their own.
Despite denials by police chiefs, McKinney is convinced that Cordell is still on the loose and has a hidden agenda going. What he doesn't know however, is that this time Cordell has help and is being given shelter by a serial killer named Turkell (played by Leo Rossi). But when he is taken into custody, the fireworks really fly as Cordell busts him out in a terminator style police station shootout, along with the other criminals. It is only after this fact that McKinney discovers what his motives are, who he's really after and how stop him...
This is certainly an improvement over part 1, but still falls just short of the mark in terms of entertainment value. My biggest complaint would be the fact that the action scenes are far too short, the police station shootout lasts all of 30 seconds, but fans of the original should definitely enjoy it.
Overall marks : 5/10.