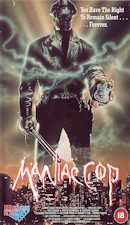 New York city is being terrorised by a killer in a police uniform, however this is no ordinary psycho. This cop-turned-killer is actually Matt Cordell (Robert Z'Dar), a former officer who was framed by his corrupt superiors and brutally murdered whilst in jail. Or so they thought...
It seems Cordell is back and is busy wreaking revenge on the NYPD by turning public trust against them, as he goes around murdering innocent city folk and the public refuse to believe this is anything other than a maverick cop, despite announcements to the contrary by the police commissioner (Richared Roundtree).
Unfortunately, poor cop Jack Forest (Bruce Campbell) becomes implicated in the murders after his wife is killed by the maniac and his Captain believes him to be the culprit. However, detective McRae (Tom Atkins), who is investigating the killings doesn't believe that Forest is the real killer.
But trying to clear his name may have unfortunate consequences, as it brings McRae face to face with Cordell himself and with more bodies piling up, it seems even if Forest can prove his innocence, he may end up as one of the next victims.
Directed by William Lustig and produced by Larry Cohen, this is pretty low budget, B-grade stuff. It's worth a watch, but not one of their better works (imagine Jason from Friday the 13th in a police uniform, and that about sums this up). Whilst it does have a good cast of cult movie actors, the plot is kind of silly in places, which lets it down. One for B-movie fans only.