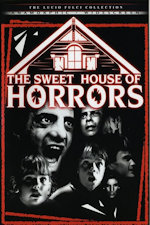 This rather muddled second entry to the "Houses of Doom" series starts with a married couple returning home one evening, only to disturb a burglar, who subsequently bludgeons them both to death, in a suitably gory fashion.
The couple's 2 children are subsequently placed in the care of their Aunt and Uncle (Cosimo Cinieri and Jean-Christophe Brétignièr), who decide to temporarily move in to the children's home with them, until they decide what to do.
But it seems the kids parents may not have completely vacated the property, as ghostly goings on subsequently ensue. Strange noises are heard at night, one of the handymen who works at the house goes mad and kills himself after being plagued with horrific visions of the murders (which it looks like he was responsible for) and the kids claim their parents are still visiting them.
Attempts to take the children away from the house are thwarted as a bizarre fog descends down, whenever they try to drive away and all sorts of misfortunes befall the estate agent who they employ to try and sell the property.
So, it looks like the kids are just going to have to stay there, unless the local psychic medium can exorcise the place.
Directed by Lucio Fulci, as with his previous film "House of Clocks" this one was very slow, and although there's some nice gore at the beginning, after that descends into mediocrity, which was not helped by the muddled plot, and I was not satisfied with the ending, which doesn't seem to resolve anything.
Indeed, this one was pretty typical of all Fulci's films during the late 80s, and indeed of the Italian film industry in general, which became very stale. As was the case with the previous film, this in one for die-hard Fulci fans only.