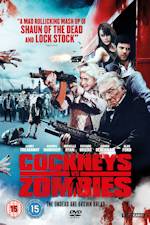 When a group of builders unearth an ancient tomb on their construction site and foolishly decide to go inside for a look, they find the bodies within had obviously been afflicted with something far worse than the black death. As shortly afterwards, the living are turning into the walking dead and going on the rampage round the East end of London.
Meanwhile, a group of bungling bank robbers, who are unawhere of what's going on around them, are attempting to pull off a heist at their local branch. Only to emerge from the building to find a zombie outbreak in full swing.
Taking off in their getaway van, they find the undead on the march throughout the whole of the East end of London, and the authorities have sealed the area off. But with their grandparents trapped in the nearby old folks home, the group decide rather than lay low, to grab their weapons, tool up and go rescue them, producing a series of slapstick, not to mention exceptionally gory, running battles along the way.
Described as a cross between "Lock Stock..." and "Shaun of the Dead", this is without doubt one of the funniest zombie movies I've seen in a long time. There's some hilarious politically incorrect humour, and a few in-jokes that the zombie film fans are bound to get, as well as some thoroughly silly scenes of rival football fans, still trying to fight each other to the death long after turning undead.
Whilst the cast is headed up by younger members Harry Treadaway and Rasmus Hardiker, along with former East Enders actress Michelle Ryan, the REAL reason you'll want to see this is for veteran British actors Alan Ford, Honor Blackman, Dudley Sutton and Richard Briers battling zombies with automatic weapons and pump action shotguns, which is just so damn bizarre it has to be seen to be believed. Not to mention one of the most peculiar chase sequences ever filmed, where the undead are chasing Richard Briers with his Zimmer frame round the back garden, which was just so silly I almost cried laughing.
Overall, I would say the film is bloody good fun. So if you enjoyed "Shaun of the Dead" or "Doghouse", I would definitely recommend checking this out.