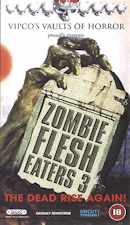 Probably better known by it's original title "After Death" (or Zombie 4 in some territories, which if you've read me review of the last film, you should understand why), this film takes place on a remote tropical island (the setting for most Italian zombie films) where a group of scientists have, unfortunately, upset the local witchdoctor.
Summoning up an army of zombies, the scientists are soon dispensed with, leaving only a 5 year old girl who survived the carnage. Flashing forward some 15-20 years later, the girl who is now in her 20s, just happens to get stranded on the same island, along with some friends and a small group of mercenaries (how terribly convenient).
Also on the island is a small group of explorers, which includes Italian B-Movie regular Alex McBride (aka Massimo Vanni) and porn star Jeff Stryker (using his real name Chuck Peyton), who have come to find out what happened to the scientists that were stationed there years before (well they waited bloody long enough didn't they?).
Anyway, it isn't too long before the two groups find themselves being chased around the island by zombies and have to try and fight them off, with the aid of a stash of M16 assault rifles which were conveniently laying around in one of the old buildings.
Directed by Claudio Fragrasso, the guy who wrote and produced "Zombie Creeping Flesh" and "Zombie Flesh Eaters 2" (so you know what you're in for) this is basically just another cheesy Italian gut cruncher, which bears no actual relation to its (supposed) predecessors and makes very little sense, but then that's the Italians for you.
But if it's gore your after, the film has more than it's fair share of blood and guts. As zombie heads get blasted, peoples faces are ripped off, bodies are disembowelled and guts are munched upon. Another one that can only really be recommended to die hard zombie fans though.