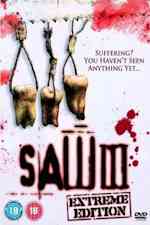 Picking up shortly after the events of "Saw 2", and the Jigsaw killer (Tobin Bell again) is playing another one of his games. But dying from the ravages of cancer he is forced to enlist the help of a nurse named Lynn (Bahar Soomekh) to keep him alive for the duration.
The nurse then finds herself part of Jigsaw's game plan as an explosive collar, which is wired to his heart rate monitor, is placed around her neck and told if he doesn't survive to see the end of the game, neither will she.
The latest "test" in question revolves around a stricken parent named Jeff (Angus Macfadyen) who is forced to confront all the people he feels responsible for the death of his young son and decide whether or not to free them from the sickening torture devices they're strapped to.
With Lynn, aided by one of Jigsaw's former test subjects Amanda (Shawnee Smith again), battling to keep him alive, we are treated to graphic scenes of DIY open skull surgery whilst Jeff wanders round the nearby building, deciding whether or not to rescue people knee dip in pig guts, strapped up in freezers or being stretched to death on racks. But could this rather simple test be part of a much larger game plan?
Definitely the goriest entry in the series (yet), this one caused a bit of uproar in the UK press upon its release in 2006 when people were reported fainting in the cinemas due to its excessively graphic content (that's what happens when ordinary folk go to see horror films to see what all the fuss is about). There's a lot of nice gory scenes, plus there are some further neat twists in the tale. It was also good to see them maintaining continuity by re-introducing Dina Meyer as Detective Kerry and Lyriq Bent, who played SWAT Captain Rigg in part 2.
Fans of the series and general horror movie fans will definitely love it.
Overall Marks : 7/10.