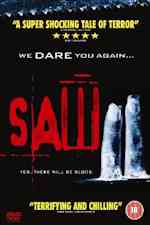 Despite the low budget of its predecessor, "Saw" had been quite a profitable little horror-thriller for LionsGate films. So, armed with a much larger budget, they tasked Director Darren Lynn Houseman up the ante for this sequel, with more victims, more bloodshed and a lot more violence.
In this, police detective Eric Mathews (played by Marky-Mark's younger brother, Donnie Wahlberg) manages to track down the Jigsaw killer (Tobin Bell reprising his earlier role). But as the police enter his hideout, it seems he has managed to stay one step ahead of them again, as he reveals he has another set of victims playing one of his games nearby. To make matters worse, one of them is Detective Mathew's son, Daniel.
Forced to watch them on Jigsaw's CCTV monitors, we see the group, who are locked in a fortified house, having to go through a series of his grotesque games in order to try and win their freedom (certainly makes for better viewing than Big Brother). But with the members of the group getting slowly picked off by his elaborate traps, it looks increasingly less likely that his son Daniel is going to survive the night, unless Mathews can convince Jigsaw to release them.
Dinah Meyer, who had a minor role in the previous film as Detective Kerry, makes a return appearance, as does Shawnee Smith who played one of Jigsaws surviving victims Amanda. Somewhat different in style to the last film, mixing both psychological horror with blood and gore to potently good effect, there are still plenty of neat twists and surprises in keeping with the original and it should appeal to both fans of the original and general horror fans alike.