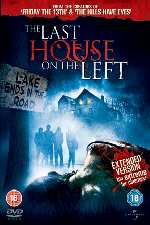 Based on the old video nasty title of the same name, the Collingwood family are spending the weekend at their lakeside summer house, when their daughter Mari (Sara Paxton) decides to head into town to look up her old friend Paige (Martha MacIsaac).
Taking the family car, the two girls subsequently befriend a young lad named Justin, who says he's staying at a nearby motel, and they end up going to his room to smoke some pot with him. Unfortunately, Justin's relatives arrive home early and aren't too pleased at finding unexpected company, particularly as Justin's uncle Krug (Garret Dillahunt) has just broken out of jail and they're on the run from the law.
Marie and Paige then find themselves being taken captive by the group, who bundle them into their car and hold them hostage whilst they try and get across the state line. But when the two try and escape, causing a subsequent crash, Krug and his brother Francis decide to have a little "fun", brutally raping the 2 girls, before shooting them and leaving them for dead.
But in a bizarre twist of fate, the house that the fugitives end up asking for help at, is the Collingwood house, not realising the couple are related to one of their victims. Of course, when the parents discover who these people are and what they've done to their daughter, they decide to exact an extremely bloody revenge on them, that is not in keeping with the Hippocratic oath (I mentioned they were doctors didn't I?).
Bloody and brutal, the film might not quite be in the same calibre as the original, but it certainly doesn't hold back on the punches. Whilst the scenes of rape and violence may not have the same impact in the current climate of torture-porn horrors, it is certainly no less shocking. Although I wasn't too sure about the ending, which appeared to be tacked on.
Fans of the original will almost certainly want to check this out, but please note. There's no goofy cops in this version though!