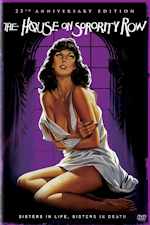 This vintage 80s slasher, about good girls gone bad, takes place at a college sorority house, which is due to close for the summer term. But, the girls have other plans and refuse to leave when told to.
Instead, the girls start making preparations for a wild party to celebrate the end of the school year. Which is met with heavy resistance by the house caretaker, Mrs Slater, who does everything she can to make life hell for them.
In retaliation, the girls decide to play a prank on her, by scaring her with a gun loaded with blank bullets. Unfortunately, the prank invariably goes wrong, when a live round is left in the gun and Mrs Slater is accidentally shot dead.
Panicking, the girls attempt to hide the body till after the party. But when the body goes missing, they realise something is very wrong. More worryingly, when the girls and party guests go missing also, they realise that someone is clearly exacting revenge, but who besides the girls knew about what happened? And why is Mrs Slater's doctor so concerned about her whereabouts?
Filmed during the height of the slasher film boom of the early 1980's, whilst this may not be the best of those, it does boast some interesting kill scenes and should appeal to fans of cult horror movies. People who only enjoy modern big budget Hollywood may not find it so appealing, but I found it sufficiently entertaining.