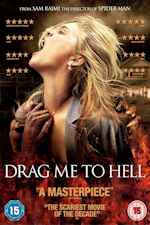 Director Sam Raimi may be known these days as the man behind those "Spiderman" films, but it was the horror genre, most notably the "Evil Dead" films, that he originally made his name with. So it came as a welcome surprise to see him returning to form with the release of this seminal tale of gypsy curses and evil spirits on the rampage.
Christine Brown (Alison Lohman) is a young bank clerk, who gets embroiled in more than just a customer relations dispute when she's forced to turn down a mortgage payment extension from an old gypsy lady. With the bank repossessing her home, she becomes incensed and threatens to put a curse on her (why do these gypsy types always blame everyone else for their own problems?).
Of course, Christine thinks this is nonsense. Until she gets a rather nasty, not to mention violent, visitation from several evil spirits later that evening. Enlisting the help of spiritualist Rham Jas (Dileep Rao), he discovers she is being pursued by a demon named the Lamia, and unless they can find a way of lifting the curse, he will come for her soul in a matter of days.
But with the gypsy woman having since died, and Rham's best efforts not having any effect it, they become embroiled in a race against time for them to, quite literally, 'save her soul' before the Lamia comes to 'drag her to hell'.
Also starring horror veteran Justin Long, this is quite an entertaining, fun filled, supernatural horror which features many of Sam Raimi's old trademarks. The only minor quibble was that the plot did become somewhat predictable and, overall, felt like an extended episode of "Tales from the Crypt", but that aside, this was still a fun film which fans of The Evil Dead will undoubtedly love.