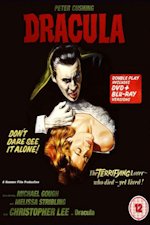 Hoping to replicate the success of the earlier "The Curse of Frankenstein", Hammer films quickly rushed this adaptation of "Dracula" into production. Which re-united director Terence Fisher with stars Peter Cushing and Christopher Lee.
This twist on the old Bram Stoker novel starts with young Johnathon Harker (John Van Eyssen) arriving at a castle, somewhere in Transylvania. The castle belongs to the mysterious Count Dracula (played with unholy relish by Christopher Lee) and Harker has been employed to work in his vast library. But it seems Dracula is no ordinary Count, and Mr Harker is no ordinary Librarian. Yes, the old Count is in fact a vampire and Harker took the job as a ploy to end his reign of terror. But unfortunately, things go horribly wrong for him...
It's several weeks later that his friend Dr Van Helsing (Peter Cushing), comes looking for him and discovers the grisly fate that befell him. However, when he returns home, he finds that some strange illness has befallen Johnathon's fiance Lucy (Carol Marsh). Turns out that Dracula has set his sights on Harker's former fiance and in- laws and its now up to Van Helsing and Lucy's brother Arthur (Michael Gough) to try and stop the count before he wipes out the whole family.
As with Hammer's version of "Frankenstein", this adaptation is notably different to the original Bram Stoker tale and other film versions. Here, Johnathon Harker is a librarian not an estate agent and the entire story takes place in Eastern Europe, and doesn't move to England as in the original story (though all the actors sound extremely English for a tale supposedly set in what's now Romania and the surrounding countries). But this is still a hugely enjoyable gothic vampire tale and is another one of the films that got me into horror in the first place, so would heartily recommend it to you.
If you haven't added this to your collection yet, seek out the 2012 restored version, as this contains extra scenes not in previous versions