Introduction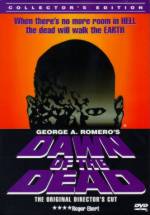 A certain webmaster once joked "Pick any number between 85 and 140mins and there's probably a version of Dawn of the Dead at that length". Whilst that may have been a slight exaggeration, there have certainly been enough different versions of this film released to make the mind boggle.
There are in actuality 4 different cuts of the film in existence. But to confuse matters further, there are also several different versions of some of these cuts owing to some countries censorship restrictions, and the preferences of different distributors.
Having viewed several of these, and using information from other sources, I have tried to compare these in an attempt to make sense of the numerous different variations there are out there. I've included as much info as I can on run times and differences between prints, which are reviewed as follows.
Please note that celluloid films of this era ran at 24fps as did American NTSC format videos and DVDs, whereas Europan PAL format videos and DVDs ran at 25fps. So when comparing home video releases, there can often be a disparity between the run times of European home video releases their theatrical, or American home video, counterparts. So I have used the cinema run times for this comparison.