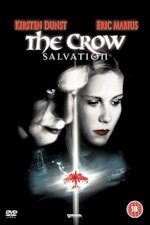 The previous film may have only been a minor success, but it made enough money for the studios to commission a third outing. Much more similar in style to the original film, this one stars Eric Mabius ("Resident Evil") as Alex Corvis, who is wrongly convicted of the murder of his girlfriend by a bunch of corrupt cops and sent to the electric chair.
Needless to say, he doesn't spend much time in the morgue before his body is resurrected by a supernatural crow (don't they usually wait for a year before this happens?) and having donned the usual Alice Cooper style make up, the bodies of those who wronged him quickly start to pile up in the morgue.
A pre-"Spiderman" Kirsten Dunst stars as the victim's sister, alongside Walt Goggins (Predators) as one of the corrupt cops and character actor Fred Ward ("Tremors"), who has a minor role as the police chief.
Not as good as the original, but much better than the second. This third film is an entertaining enough entry into the The Crow series. If you enjoyed the original I would say give it a go.