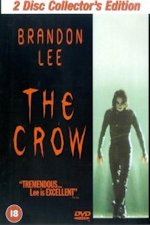 A film that, sadly, achieved cult status for all the wrong reasons. Director Alex Proyas dark gothic tale, takes place in a world that appears to be bathed in perpetual darkness, in which hapless teenager Eric Draven (Brandon Lee, son of the legendary Bruce Lee) is brutally murdered, along with girlfriend, on Halloween night by a gang during a home invasion.
One year later and a mysterious stranger wearing Alice Cooper style make up, who bears a striking resemblance to Draven, proceeds to stalk the streets of his old neighbourhood. Followed around by a mysterious black crow, the gang members responsible for the death of him and his girlfriend all subsequently proceed to meet a grisly demise.
Based on the comic book series by James O'Barr, the film is sort of a bizarre cross between Death Wish and Batman, but with a supernatural twist and is a very compelling, action packed, dark, gothic horror story.
Also starring character actors Tony Todd (Candyman) and Michael Wincott (Alien : Resurrection) as a couple of bad guys, along with Ernie Hudson (Ghostbusters) as a sympathetic police officer. The film was bound to be a cult classic. Sadly though, its release was overshadowed by the death of lead actor Brandon Lee, who was accidentally killed on set when a special effects stunt went wrong.
The film subsequently became (in)-famous for all the wrong reasons, and whilst it proved hugely successful at the box office. This was in no small part due to the adverse publicity it garnered due to the accident. A great pity as the film should have been a classic in it's own right, as it is its become famous for being the film in which Brandon Lee died making.
I would in any case recommend checking this one out. Its action packed, dark and very atmospheric, though it is tinged with sadness for multiple reasons...