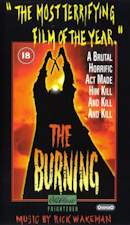 The kids at Blackfoot summer camp decide to play a prank on the caretaker "Cropsey" (Lou David), who's a bit of a mean old bastard. The joke however goes terribly wrong and Cropsey is rushed to hospital suffering from horrendous burns.
Released 5 years later, healed although horribly disfigured, he returns to the area of the old summer camp, which has since been renamed Camp Stonewater, seeking revenge. Once there, he proceeds to do away with the poor kids and the camp councillors, turning them into mincemeat with his trusty old gardening shears.
Directed by Tony Maylem, who went on to be fired from the Rutger Hauer sci-fi film "Split Second", this is basically a clone of "Friday the 13th" if you hadn't guessed that already. Although that's not to say the film doesn't have its fair share of good gory moments, but then that's not surprising considering these were by the same effects guy, namely Tom Savini (the sultan of splatter himself).
Heavily censored in the UK upon its initial release back in the early 80s (it would be 2002 before the UK finally got to see the full uncut version). This one is most definitely a guilty pleasure of mine, though I can really only recommend this to other slasher movie fans, otherwise you may wish to stick with Friday the 13th. But if you love tacky old 80's horror films, be sure to check this one out.