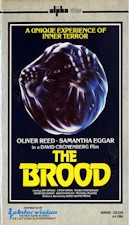 Another one of David Cronenberg's 'unusual' horror films, this one from 1979 stars Art Hindle as a man who's wife Nola (Samantha Eggar) has been committed to a remote psychiatric clinic run by a Dr Raglan (played by good old Ollie Reed).
Dr Raglan has a somewhat unorthodox method of dealing with the mentally disturbed patients in his care, in which they become so emotionally intense, they develop physical boils and skin welts over their body, in a process known as psychoplasmics.
When he discovers bruises and marks all over their daughters back after what was supposed to be a supervised visit to see her mother, he threatens to stop all future visits. But then shortly afterwards, both his wife's parents are killed under extremely mysterious circumstances, by what appears to be a deformed child hiding in their house.
When 2 more of these of these deformed children abduct their daughter and attack her school teacher, he realises that something is definitely not right at the clinic. Particularly as Dr Raglan seems to have discharged all his other patients, but has held onto Nola to help him look after a number of mentally disturbed children in his care.
Seems Dr Haglan's psycho-plasmic sessions have resulted in more than just skin anomalies and Nola's rage has manifested itself into something entirely new and dangerous...
If you've seen Cronenberg's other films, you'll sort of know what to expect here, which proves to be no less unusual than his previous movies. Makes an excellent companion piece to "Shivers" and "Rabies".