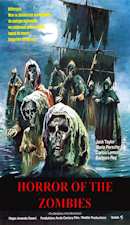 The Blind Dead are all at sea, in this third instalment of DeOssorio's "Blind Dead" series. But unfortunately so is the plot. This time, the undead Templar Knights are adrift aboard an ancient Spanish galleon which rolls out of the fog to attack a small experimental motor cruiser, being driven by a couple of fashion models who are trying to pull off a publicity stunt to promote the new boat.
When radio contact is lost with the two girls, the boats designer and the promotional company executives, who had organised the failed publicity stunt, set out to try and locate them, along with professor Gruber from the nearby weather research station, who has expert knowledge of the area and is interested in exploring the legends of the ghostly galleon.
As they head out to the girls last known location, their ship is similarly enshrouded by the strange fog, where they subsequently encounter the galleon for themselves. No sooner do they board the ship (which was a rather silly idea in a horror film), the undead Templar Knights emerge from the hold below....
Somewhat reminiscent of John Carpenter's "The Fog" (although actually pre-dating that by about 15 years), whilst the basic plot held a lot of promise, the actual film is something of a disappointment and is definitely the weakest in the series. The whole thing takes far too long to get going, the Blind Dead take way too long to appear, and the amount of gore that does finally take place seems hardly worth the wait. Indeed, the scene where one of the girls is dragged down into the hold to her death takes so long you could grow a beard whilst watching it.
Whilst the sets of the ghostly galleon are sufficiently eerie, they are let down by the external shots showing the galleon in the fog, which are all too obviously that of a small model. This is really one for completists only, and fans of the first two films may be disappointed. However, I felt that the film did somewhat redeem itself with the (possibly unintentional) amusing ending.