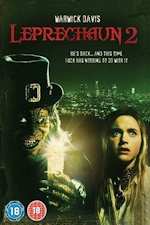 A long time ago, in a galaxy far, far away... Ireland, several hundred years ago to be precise, a certain mischievous Leprechaun (Warwick Davis again) was thwarted in his attempt to make some young girl his bride by placing a spell on her, when her father steps in and interrupts him. Not to be outdone, the Leprechaun vows that he'll track down his daughters descendents, 1000 years from now, and do the same.
Now I'm assuming this is a different Leprechaun to the one from the previous film, as that one said he was 600 years old, whereas this one is obviously over 1000. Plus there's no reference to any of the events from the previous film (which sort of makes me wonder if the writers actually watched the original before writing this), but anyways..
Flashing forward 1000 years to present day Los Angeles and the Leprechaun has a nasty St Patrick's Day surprise for young Bridget Callum (Shevonne Durkin), who's one of the descendents of the original girl he tried to bewitch. Fortunately, her boyfriend Cody (Charlie Heath) isn't going to let her go without a fight and as luck would have it, his uncle Morty (Sandy Baron), who runs the local murder mystery tour, knows a thing or two about Leprechauns and comes up with an ingenious plan to get her back, which has something to do with a wrought iron safe, a gold shilling and a Whiskey drinking contest.
Originally released in the UK and Ireland as "One Wedding and Lots of Funerals" and marketed as a standalone film, whilst the story is not directly connected to it's predecessor (and the Leprechaun now seems to have a vulnerability to wrought iron) it still shares the same tongue in cheek humour, with Warwick Davis's Leprechaun character having all the best lines, and is also noticeably bloodier than the last movie. Though the deaths are handled in a very comedic manner (death by lawnmower anybody?).
To summarise, this is just a bit of nonsense with a horror element to it, so just view this for what it is and you can't go wrong.
Overall marks : 5.5/10.
Terrifying Trivia.
Alternate tag line "For a thousand years he was in search of gold, now he's in search of a woman", "Terror comes in small doses", "The Good, The Bride and The Ugly".

The film was released on VHS in the UK and Ireland as "One Wedding and Lots of Funerals" and marketed as a standalone film, Subsequent re-issues of the film reverted to the original title "Leprechaun 2".

The film's budget was $2,000,000.

The waiter in the coffee shop was played by American stand-up comic Michael McDonald.

This was the last Leprechaun films to be released theatrically in the US, the subsequent films were all released direct-to-video. Though all films were released DTV outside of the US in any case.

B-movie actor Clint Howard (Ron's brother) has a guest role as one of the tour party members on the murder mystery tour.

The guard dog at the breakers yard named Andretti was a reference to race car driver Mario Andretti.

Director Rodman Fletcher also directed the 1999 horror-comedy "Idle Hands".

The afro-American dwarf at the Irish Bar dressed as a Leprechaun, who hands Cody a chocolate coin, was played by Tony Cox of "Bad Santa" and "Me Myself and Irene" fame
Extra Info.