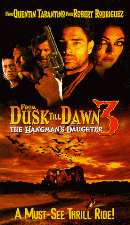 Made straight after "Texas Blood Money", the third film, "Hangman's Daughter" takes place 100 years before the events of the original. This film follows the fictional exploits of American writer Ambrose Bierce (played by Michael Parks), a former civil war hero who disappeared in the 1800's.
Whilst going through Mexico, the stage coach Bierce is travelling on is robbed by a bunch of small time outlaws led by a chap named Johnny Madrid (Marco Leonardi) and so he finds himself stranded with his travelling companions in the middle of the desert. Fortunately, all is not lost as they soon come across a remote Inn run by a lady named Quixtla (Sonia Braga).
However, matters become interesting when Madrid and his outlaws also show up looking for a place to hide from the law. It turns out that he has run off with the daughter of the local hangman, who is now chasing after him with the help of the Mexican army, and they arrive shortly after and start turning the place over. If all that wasn't enough, it turns out this is no ordinary inn, as madam Quixtla is in fact a vampire, along with all her bar staff (no wonder that barman looked familiar). As the 3 parties square up to each other to settle their scores, the vampires reveal themselves and the fun begins.
For the most part this is an action packed cowboy film, but as with the first movie the vampires come into their own during the films climax. Again, this is not as good as the original film but is most definitely worth watching.
Overall Marks : 5/10.