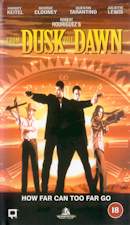 Perhaps one of the weirdest vampire films ever, was this offering by cult action directors Robert Rodriguez, director of "Desperado", and Quentin Tarantino, who's better known for his violent crime thrillers, like "Reservoir Dogs".
The film is really divided into two different parts, the first half being much like your typical Tarantino action/road movie. George Clooney (in a sharp contrast to his role as the smooth talking Dr in E.R) stars as a character called Seth Gekko, a convicted bank robber, who's on the run from the law with his brother Richie (played by Tarantino himself).
With the police, FBI and Texas rangers closing in on them, they Hi-jack a camper truck, belonging to former priest Jacob Fuller (Harvey Keitel) and his family and force them to drive them across the border to Mexico.
After bluffing their way through the border check-point, Seth then forces them to drive to a rowdy bar called the Titty Twister, where they are to meet with some of his gangster chums. The bar is located in the middle of nowhere and is a popular haunt for truck drivers and biker gangs.
Unfortunately, Seth and Richie have a run in with the bar's management and end up shooting them. This is where the second half of the movie kicks in, taking a sudden and unexpected twist, as to their complete and utter surprise (and ours), the dead bar staff suddenly sit back up, sprout fangs and start attacking the customers, as the film then turns into a horror picture.
Seth, Richie and Jacob's family then find themselves fighting for their lives, along with the other people in the bar, as they try to hold off the bloodsucking creatures long enough for Seth's Gangster buddies to turn up. Juliette Lewis also stars in the film as Jacob's daughter Kate Fuller, and look out for special appearances by horror actor John Saxon, SFX wizard Tom Savini and comedy actor Cheech Marin, who has 3 separate roles in the movie.
I've been a fan of Tarantino's, ever since I saw Reservoir Dogs but this has to go down as his most bizarre film to date. If you're a fan of either his, or Robert Rodriguez's movies and you like vampire films, you'll probably love it. But be prepared for the sudden plot twist in the middle of the film, which totally confused audiences who didn't realise that the film was meant to be a camp horror picture.
Overall Marks : 8/10